Yahaven a new client that has a very user friendly look to it a bit like Yahoo! Messenger Very easy to use good selection of features but this client tends to ignore everyone and anyone until you manually remove the filters and wildcards ignores!
Yahaven! Full Installer Version 2.4.8 - updated on December 02, 2007,
Adult rooms added to room lists, this will fix the problem of them not showing until Yahoo! fixes the issue. Friends List can be hidden automatically upon login. Chat window now has zoom to increase or decrease text size. Tattoo's can now be coloured separate to chat text. Number ID's will now show in chatters list. Experimental options to re-activate or switch off Chat Shield also added (Should work fine). The Installer will no longer overwrite existing Ignored/Safe/Wildcard lists.
The messenger window is simple to use with good amount of options!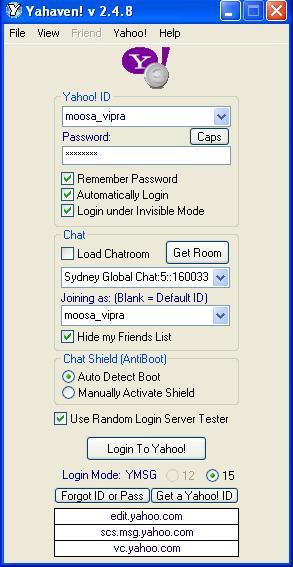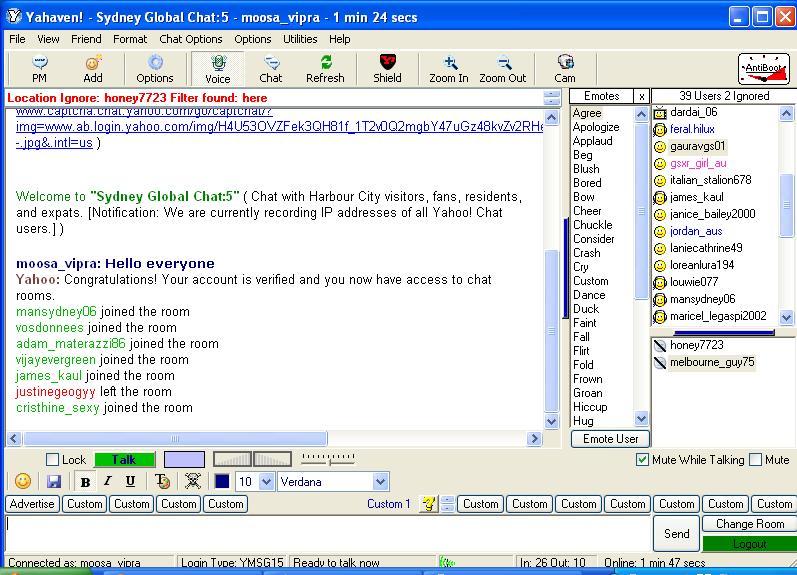 download


:cheers: :cyclops:
:face:
:shock: :evil: :twisted:
Last edited by Admin on Sat Nov 15, 2008 2:51 am; edited 2 times in total (Reason for editing : add read me)