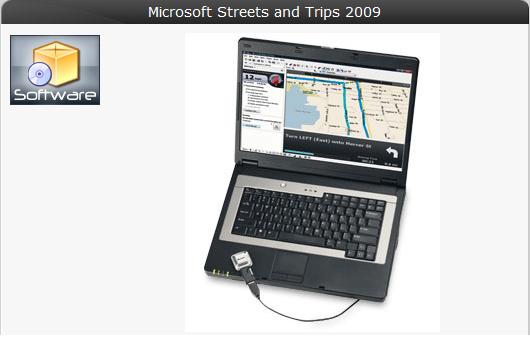 Streets & Trips with GPS Locator helps you travel with complete confidence.
Microsoft Streets And Trips 2008 with GPS Locator pairs the power of Streets & Trips, the #1 best-selling travel and map software,** with a sleek Global Positioning System (GPS) receiver that connects through your computer's USB port. With Streets & Trips 2008 with GPS Locator, you'll always know exactly where you are. Map your trip, plug the GPS receiver into your laptop, and go!
Features:
# New! Stay on track, even when you miss a turn, with automatic re-routing.
# Use the new perspective map view to get a view more like you would see through your windshield.
# See your exact current location. Track your route in real-time in an easy-to-read Full Screen display with simple, easy to locate navigation buttons. Change to the special Night Map display with a single click of the button from the full screen map view.
# Hear upcoming directions out loud as you go. Get real-time, voice-prompted turn-by-turn directions that let you know where your next turn is.
# Easily see upcoming turns with an automatically zooming map that shows relevant details based on how close you are to your next turn.
# Locate gas stations, restaurants, and other points of interest closest to you as you go.
# GPS Task Pane. Get important information fast, including driving speed, latitude and longitude coordinates, altitude, travel direction, and more.
# Reverse your route with the click of a button. Quickly and easily retrace your route to get back home.
# GPS Trail. Retrace your steps to quickly find your way back. GPS Trail shows exactly where you've been.
rapidshare.com ST09.part01.rar
rapidshare.com ST09.part02.rar
rapidshare.com ST09.part03.rar
rapidshare.com ST09.part04.rar
rapidshare.com ST09.part05.rar
rapidshare.com ST09.part06.rar
rapidshare.com ST09.part07.rar
rapidshare.com ST09.part08.rar
rapidshare.com ST09.part09.rar
rapidshare.com ST09.part10.rar
rapidshare.com ST09.part11.rar
rapidshare.com ST09.part12.rar
rapidshare.com ST09.part13.rar
rapidshare.com ST09.part14.rar
rapidshare.com ST09.part15.rar
rapidshare.com ST09.part16.rar