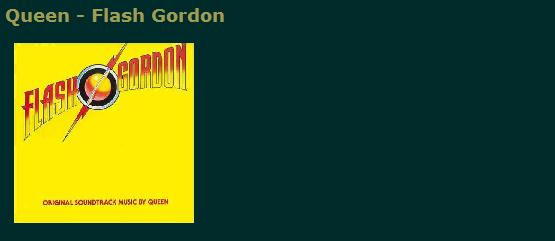 Following the release of Queen's first album of the eighties, The Game, the group recorded something totally different – something that, unlike that album, would be forgotten by legions of fans – The soundtrack to the 1980 film Flash Gordon. Honestly, who better would there have been to record a synth-heavy rock soundtrack to the film version of the classic comic series? Read on for my review of this album.
As I stated above, this is, by far, Queen's most underrated album. This may be due in part to the fact that some fans overlook it because it's a film soundtrack and not a regular Queen album. The people who overlook this one really are fools. For the album, the band creates a synth-heavy rock work that is unlike anything else they had ever recorded before or would ever record in their future. Although the album is divided into several tracks, it is really easiest to think of the release as a single work – all of the songs fade right into one another. Over the music is dialogue and sound effects from the film, so in addition to getting a bad ass synth-heavy rock and roll score, you, in a sense, get an abbreviated version of the movie. Admittingly, I wish the band had released a music-only soundtrack, but that is NOT reason enough to bash this release the way some critics have been. In the end, it's one of the band's most overlooked releases, and a damn good one, too.
This album, like other Queen releases, got remastered and reissued, and the record company put on a remix bonus track. Like other remix bonus tracks, this one is nothing special. Also, this album seems to be MUCH harder to find than the band's other albums, probably due in no small part to it never getting the proper credit. It needs better distribution.
I've heard some good film soundtracks, but this one ranks among the finest. Queen beautifully demonstrates their musical diversity here. If you're a fan of Queen, the film Flash Gordon, or you just like eighties-style rock and roll with lots of synthesizers, pick this one up.
By Taylor X "Taylor X"
1. Flash's Theme (3:31)
2. In The Space Capsule (The Love Theme) (2:43)
3. Ming's Theme (In The Court Of Ming The Merciless) (2:41)
4. The Ring (Hypnotic Seduction Of Dale) (0:57)
5. Football Fight (1:28)
6. In The Death Cell (Love Theme Reprise) (2:25)
7. Execution Of Flash (1:06)
8. The Kiss (Aura Resurrects Flash) (1:45)
9. Arboria (Planet Of The Tree Men) (1:42)
10. Escape From The Swamp (1:43)
11. Flash To The Rescue (2:44)
12. Vultan's Theme (Attack Of The Hawk Men) (1:13)
13. Battle Theme (2:18)
14. The Wedding March (0:56)
15. Marriage Of Dale And Ming (And Flash Approaching) (2:04)
16. Crash Dive On Mingo City (1:00)
17. Flash's Theme Reprise (Victory Celebrations)
DOWNLOAD :
rapidshare.com 1980_Flash_Gordon.rar